Eye on Community - June
Greetings Daevas,
When we started writing this edition of the Eye on community we couldn't help but think "how did it get so late so soon?" We're already in June and the time just flew by. Probably because we were so busy doing the 2.5 new instances, playing with our new pets and spending time trying and selecting our outfits to go to the Disco Party! We're pretty sure you saw some funky Elyos and Asmodians rocking Atreia in their blond afro and sparkly suits!
We also executed several little contests on our website and forums, we hope you enjoyed them as much as we did; according to the number of participations we received, we believe you did!
On the menu for this edition of the Eye on Community: pure fun!
You'll discover the face of some members of our lovely community team and get to know, among other things, their most memorable epic fails! You'll get to see various screenshots submitted by our players of the new 2.5 graphics! We'll show you how to create a transparent legion logo for your new cloaks and make your Legion logo unique. And you'll have the chance to discover interviews of the players who led Urtem and Zikel to be part of Aion history by defeating Sematariux and Padmarashka, respectively, for the very first time here in the West!
Only good things in perspective, hope you'll enjoy this June Eye on Community and good game to all!
Have fun, Daevas, and we'll see you in game!
Empyrean Calling™ Screenshot Highlights
Empyrean Calling™ has been released, and we have all been busy enjoying the new additions to the world of Atreia. Our North American players have contributed screenshots highlighting the blast they are having in Aion®!
Joyful of Zikel took this screenshot during one of the new mentor quests for Ice Claw Village. Disguising yourself as a Balaur Spy is fun!
Omega of Siel shows that you can give your pet a bath while still looking fabulous!
Mercy of Vaizel joins friends for an impromptu duo performance.
Deadends of Zikel takes on the heat of the armorsmith's forge with the new Empyrean Crucible outfits.
Suika of Israphel throws out some hugs and kisses for the new Elyos Legion Capes.
Cassandre of Israphel joins her group in pause as it formulates a battle plan inside Esoterrace.
Feign of Israphel takes a moment of rest in between battles within the Empyrean Crucible.
Title: Community Manager France

Name: Francois-Xavier Labescat

Nickname: FX, Arathaur
What are your hobbies?
Playing drums, enjoying Brighton beach, and playing videogames, of course!
What kind of gamer are you?
PvE. Also, I consider myself a hardcore gamer, but I really enjoy playing a large variety of game genres on different platforms. There are some great games out there that I think every gamer needs to play. It is like a good book or a good movie, you cannot miss some of them. Also, I believe it is important to know where the industry is going - even more so when it is your job! This industry is still very young, it moves fast, and so do your consumers' tastes! We don't design a game today like they did 20 or even 10 years ago. This constant change is exciting.
What do you bring to the Community Team?
I think this question is more for the other members of the team, but I would say rigor, organization, passion, and the lawyer inside of me.
What is your favorite quote?
"Aim for the moon. If you miss, you may hit a star" - W. Clement Stone
What is your favorite food?
Sushi
Your most epic fail?
Hard question. I invoke the fifth amendment.
If you got one free wish, what would it be?
To never grow old in my mind, and to never stop enjoying playing and making games!
Community Introductions - Mohamed Fadl
Title: Community Manager Germany

Name: Mohamed Fadl

Nickname: Mo, Imhotep
What are your hobbies?
MMO-gaming, chillaxing, and traveling
What kind of gamer are you?
Hardcore gamer. I love PvP. I love any game as long as it's an MMO or it has a multiplayer mode.
What do you bring to the Community Team?
Mo-jo, <grins>
What is your favorite quote?
"Two things are infinite: the universe and human stupidity; and I'm not sure about the universe." - Albert Einstein
What is your favorite food?
Steak!
Your most epic fail?
When I got kicked out of a country. Or the time when I was dancing with a Thai girl and realized then it wasn't really a girl . . .
If you got one free wish, what would it be?
World peace - JOKING! Only one wish? Hmm, to punch a whale on the nose.
Community Introductions - Shawn Silverman
Title: Lead Community Manager

Name: Shawn Silverman

Nickname: Phenteo
What are your hobbies?
Community management, web design, video games, vector art, and fishing.
What kind of gamer are you?
The lone wolf
What do you bring to the Community Team?
Humor and direction
What is your favorite quote?
"Yep, two corpses in the study. Everything's fine." - Colonel Mustard (Clue)
What is your favorite food?
Sushi and Thai food
Your most epic fail?
Socketing the very last manastone and failing. Pretty much happens all the time.
If you got one free wish, what would it be?
That I never fail at my enchantments and manastone socketing. Maybe throw a Hot Heart of Magic in there, too. <winks> Or winning the lottery.
Community Introductions - Aidan Taylor
Title: Community Coordinator UK

Name: Aidan Taylor

Nickname: Faelan, Fae
What are your hobbies?
Playing games (RPGs, FPS, RTS, and pretty much all MMOs), reading, drawing and programming/coding
What kind of gamer are you?
Hardcore PvPer
What do you bring to the Community Team?
Knowledge and passion
What is your favorite quote?
"The third-rate mind is only happy when it is thinking with the majority. The second-rate mind is only happy when it is thinking with the minority. The first-rate mind is only happy when it is thinking!" - A. A. Milne
What is your favorite food?
Anything healthy, although I do enjoy a decent pasta dish, as well
Your most epic fail?
I've had so many that it's hard to choose. But it definitely has to be related to the above picture!!
If you got one free wish, what would it be?
I don't really wish for anything. I enjoy what life has brought me so far!
Community Introductions - Mélanie Corolleur
Title: Community Coordinator France

Name: Mélanie Corolleur

Nickname: Mel, Elkina
What are your hobbies?
Photography, films and live music. I also like snowboarding, but it's hard to practice in Brighton.
What kind of gamer are you?
Casual. I like PvE and all the fashion-related stuff in game.
What do you bring to the Community Team?
A feminine side: delicacy, organization - and a sense of fashion!
What is your favorite quote?
It's more a motto than a quote. It's from one of my favorite artists, Serge Gainsbourg: "I know my limits, that's why I go beyond them."
What is your favorite food?
Definitely Indian. I'm never bored of curries!
Your most epic fail?
I fell from the first floor to the ground floor of a building trying to go to the private outdoor heated swimming pool. My hip still remembers!
If you got one free wish, what would it be?
I can't tell you. If the genie in the bottle ever appears, it'll curse the whole thing!
Community Introductions - Lars Malcharek
Title: Community Coordinator Germany

Name: Lars Malcharek

Nickname: Lisertan, Lis
What are your hobbies?
MMO gaming, watching movies, photography
What kind of gamer are you?
Hardcore gamer and roleplayer
What do you bring to the Community Team?
A good mood, game knowledge, and the unbreakable will to do something really strange every now and then.
What is your favorite quote?
"Yesterday is history. Tomorrow is a mystery. Today is a gift. That's why it is called the present." - Alice Morse Earle
What is your favorite food?
Lasagne
Your most epic fail?
Punching a Darth Vader statue in the face for not calling me a taxi. (Long story short: I was drunk, it was dark, and…)
If you got one free wish, what would it be?
More wishes.
Community Introductions - Felicia Johnson
Title: Community Coordinator North America

Name: Felicia Johnson

Nickname: Nyx
What are your hobbies?
Gaming, reading, gaming, scrapbooking and then more gaming
What kind of gamer are you?
Depends on the game, hardcore at times, casual at others, not hugely into PvP unless I am with a good group of friends I can depend on
What do you bring into the Community Team?
Passion for gaming, and lots of experience. I was a teacher for 10 years — managing a forum is surprisingly a lot like managing a classroom!
What is your favorite quote?
"We are the music makers, and we are the dreamers of dreams." - Willy Wonka
What is your favorite food?
Tex-Mex!!
Your most epic fail?
Camping a Notorious Monster in FFXI for 17 hours with a group of friends. 2am and it finally spawns literally directly on top of me and I screamed "THERE IT IS" Of course, the only people who heard me scream were my 3 (non-gamer) roommates who were sound asleep and were extremely irritated that I woke them up in the middle of the night. Since I forgot to press the talk button for vent, my screaming alerted the wrong group of people!
If you got one free wish, what would it be?
Unlimited happiness :)
Community Introductions - Jessica Chambers
Title: Forum Moderator

Name: Jessica Chambers

Nickname: Bubbles, Bad Candy
What are your hobbies?
Reading (philosophy, psychology, horror), feeding the local wildlife, playing video games…
What kind of gamer are you?
The healer. The de facto guild leader. I love my 'spoken word' bard in our D&D group, and Alpha Centauri can still suck my life away. Death to Lady Deirdre and her mindworms!
What do you bring into the Community Team?
Comedic relief? A strong sense of ethics mixed with a pedantic nature and a love of grammar.
What is your favourite quote?
"Nunc scio quit sit amor." - Virgil
What is your favourite food?
A medium rare filet with Cakebread Cellar's merlot. Just bring me COW and I'm happy.
Your most epic fail?
I trip over this whiteboard at work at least once a week. Oh, you meant in game! I didn't realize the skybridge moved on its own and just plummeted off the ledge. I die from falling constantly. Hmm… I'm sensing a trend here.
If you got one free wish, what would it be?
To own Divine Fortress!
Fashion changes, and so did the fashions in the Aion 2.5 update. One of these changes affects the new cloaks and uniforms for Legions. Because players want to show off their Legion emblem in the best light, they need to display an emblem with a transparent background. Here is a quick guide for on how to make and use your own emblem with a transparent background.
Your emblem design needs to be saved in .bmp or .tga file format, or Aion will not accept it. Because the .bmp file format can not handle transparency, you have to use the .tga file format. The easiest way to create such an emblem is using GIMP, a freeware software program. The following screenshots and this guide were created with GIMP.
Create a new picture. Its size should be 256 x 256 pixels. The resolution should be 300. Make sure that your select a transparent background.
Now you can start creating a new logo. The transparent background will display as a checkered pattern of gray squares. We've chosen some colorful circles for our logo. See the screen below.
When you are finished making your logo, save it in the .tga file format, naming it emblem.tga exactly. You have to use exactly that filename so that the Aion client will accept it.
Another window will open up in GIMP that has an RLE Compression checkbox. Make sure you uncheck this box.
You've now saved your logo to your hard drive so that it can be used as your Legion emblem. Remember, though, only the Brigade General can change the emblem of your Legion.
Have fun with your new Legion emblem!
Atreian Stock Market
Hello, Daevas!
Welcome to our fourth segment about Atreia's stock market. This month we take a deep look into the world of the Trade Broker. Let's see what's hot and what's not!
Taking the lead in prices for enchantment stones was the L75. Prices for it ranged from 5 to 7 million Kinah a piece. However, as the month progressed, prices started cooling off. The highest selling enchantment stone was the L50 enchantment stone due to it being valued at a lower price. Prices remained steady for the lower level enchantment stones. We don't expect a high return on these lower level items next month.
Even fewer Stigma Shards sold this month than the last couple of months, but the price of Stigma Shards that sold rose yet again over the course of this month.
Medal sales continue to be stable, and we still do not recommend getting into trading medals if you want a higher yield for your Kinah. However, if you're looking for long-term gain, then feel free to corner that market as you only have a small number of competitors.
Luichinchinerk reminds you that Daevas who play the stock market take a risk. It may seem that we're in a bull market, but a Daeva could still end up with NYERK. Akakakakakak!
Sematariux Slain
On Friday, June 10, under the leadership of Phx of the Est Sans Legion on Urtem, and members from Tears Of Shadows, and Nephilims Legions, and many others defeated Sematariux for the very first time in the West. Following, you'll find the adventure story of this saga that lead to this amazing performance!
How did you come up with the idea of organizing this assault against Sematariux?
It started with the goal of completing The Orb's Orders quest I got from Omega, as simple as that! I kept hearing that we would never complete this quest. Chatting about it with some friends in-game, I thought, "I'll take the challenge." I had no idea what was waiting for us!
How did you prepare for the assault? What were the biggest challenges you faced?
It took me more than three months to prepare it all. The first forum post I made about it is from March 6. I have to admit, we were full of innocent enthusiasm at that point; in fact, we had very little information and no strategy whatsoever. All we had was our motivation!
It didn't take us long to realize that the most difficult obstacle was going to be the keys. Motivated players spent hours in the Forest of Antiquity looking for them.
The next step was to find verified information about Sematariux, and believe me, urban legends about it are numerous! We managed to do some testing (transformation, timer, and so on) in Padmarashka's Cave. Fortunately, I found the interview about the Korean group that downed Sematariux. This was my main source of inspiration in establishing our battle plan.
Can you describe the organization that this accomplishment required?
The first thing I had to determine was how many players were needed to try to kill Sematariux. From my research, I found out that the zone would take 72 players. I went for three Alliances: one to tank, with two Templars, three Clerics, and one Chanter per group; one with cloth dps, to ensure big damage; and one with various dps, open to all the other classes.
At the beginning, I thought about selecting players depending on their equipment, but having the key soon became the priority. I realized that equipment is important but not essential.
I invited all the participants to read the battle plan containing all the information we had collected and the details of our strategy. All Sematariux's attacks were listed, and our approach strategy for the tornados was clearly defined (In the worst-case scenario, we would have to face 12 heroic tornados; with our strategy, we only faced 5.)
When we engaged Sematariux, we alternated between two tanks until Sematariux got to 50 percent. After it got to 50 percent, we used the same tank until the end. Since Sematariux attacks from specific directions, we placed our dps in two safe zones.
In the first 50 percent of Sematariux's life, we used the two dps Alliances against the storms that randomly appeared. Once its life reached 50 percent, Sematariux started laying eggs that healed it. It also used lighting attacks that could one-shot a character. The first one of those really frightened us; lucky we had revival stones!
Finally, after an hour and a half, Sematariux succumbed. We were relieved, and then immensely happy!
I'd like to thank Shaorune for his perseverance and his optimism, Camerone for leading the third Alliance and for his critical thinking during the preparation, Khristophoros for leading the second Alliance, and Tiphane the official key supplier! I'd also like to thank all the players who joined this assault, without whom this wouldn't have been possible. And to all of you who wanted to join but couldn't or didn't, remember: This is only a beginning. There will be more opportunities!
What did you loot, and who got it?
Sematariux was very generous! It gave us five pieces of golden armor and an Eternal weapon. Ocheeva got the Sematariux's Sabatons, Orangemarmalade the Sematariux's Hauberk, Flame the Sematariux's Gauntlets, Angelwizards the Sematariux's Leggings, Yuzuki the Sematariux's Pauldrons, and Segfault the Sematariux's Warhammer.
What's your next challenge?
First, defeat Padmarashka, then try Sematariux again. But above all, the biggest challenge will be to defeat Mastarius in association with Elyos faction PvP. To mix PvE strategy with PvP strategy will require a lot of work, especially because our Asmodian friends seem to be back!
Raid Video:
Padmarashka Slain!
On Friday, June 17, SunShine of New Zikel successfully took down Padmarashka with 70 Legion members. This marks the very first Padmarashka kill in the North American and European Union servers. Here are some insiders' views on the leadership and behind-the-scenes planning that led to this accomplishment.
Congratulations on the very first NA/EU Padmarashka kill. We would like to hear your thoughts on this boss fight. How long has SunShine been planning the assault? Why did you decide to go after Padmarashka?
Amphictyonis: We've been planning this since the 2.0 release. As a Legion, we've already experienced most of the other large-scale boss fights, so making this one of SunShine's goals was an easy choice. Personally, I've been paying close attention to Sematariux and Padmarashka ever since the 2.0 patch notes were released. When I found out that Padmarashka was taken down on the Korean servers, I started to gather information about the Korean raid. With help from some of our Legion members, we managed to find the information we needed for our Padmarashka raid.
This wasn't the first time you targeted Padmarashka. What made the raid successful this time?
Komori: Yes, we made two previous attempts. This time, we were able to bring out three full Alliances, which made it easier to lead the raid. Also, all of the SunShine members were well prepared this time and knew their roles.
How would you rate the Padmarashka battle relative to other bosses you've fought?
Arisaka: To be honest, it was a shockingly easy battle. Initially, we had some problems killing the adds Padmarashka spawned. At first, we couldn't kill them fast enough before another set spawned, but once we moved the adds, we were able to recover. When Padmarashka got down to 10 percent, some of our members were getting too excited. I was a little fearful that we might wipe because of all of the excitement.
What was the biggest surprise you faced during the battle?
Soji: Well, SunShine's first two attempts on Padmarashka weren't too successful, so I was surprised we killed it this time. I think Amphictyonis did a great job of finalizing our strategy. Komori took command of everyone in the raid to make sure everything we needed to do was executed. Of course, we had a few setbacks before getting started: people showing up late, random disconnects, a few Elyos entering Padmarashka's cave with us and locking out some of our Legion members. There was also a group or two of Asmodians that came in mid-fight, but overall the battle was really fun and we're looking forward to fighting Sematariux.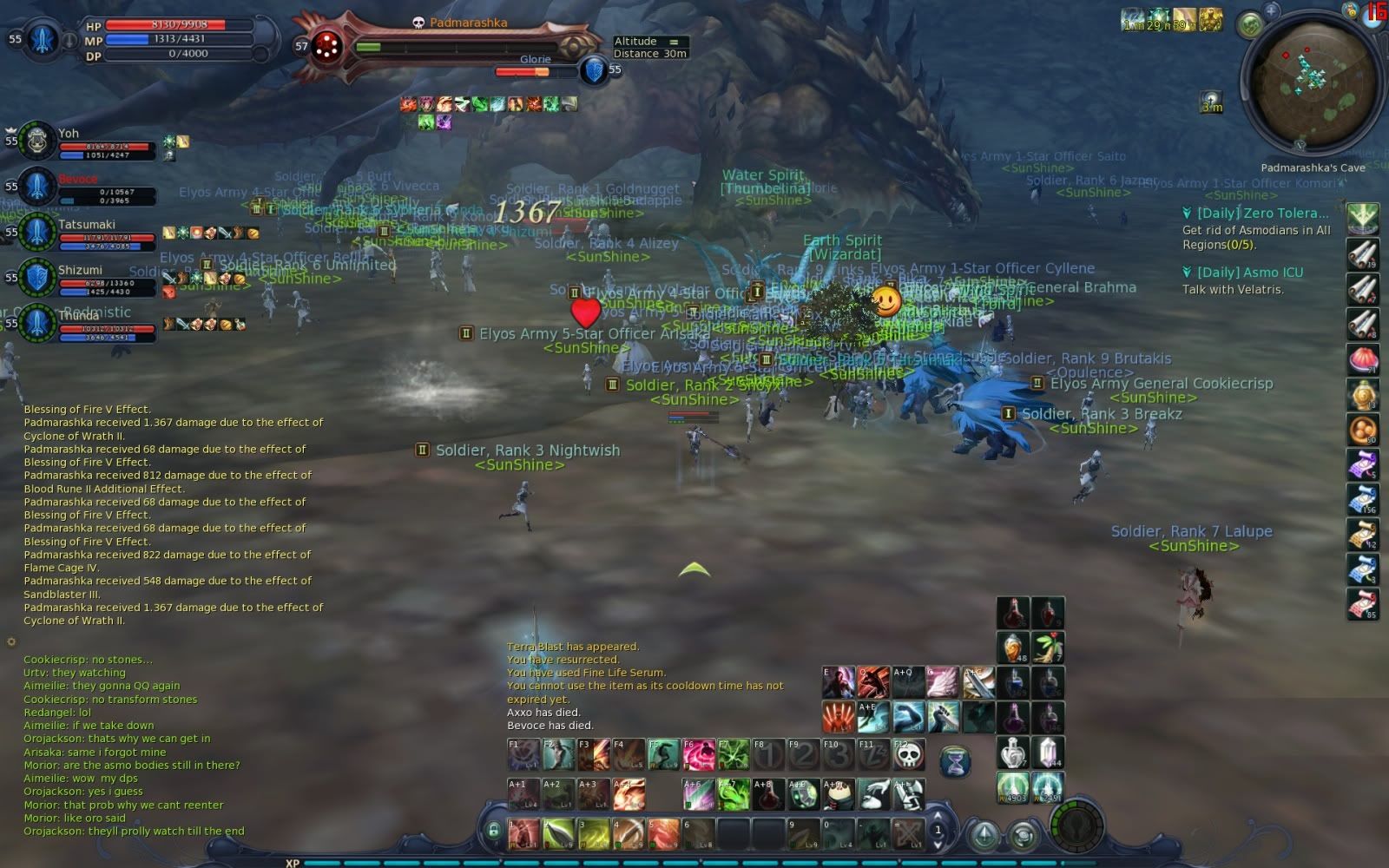 How were the groups set up for each Alliance? Did each Alliance have its own function?
Glorie: Groups were established based on the role they'd play during the raid.
The first Alliance's job was mainly to tank Padmarashka, so its first party consisted of two tanks, two Clerics, and a Chanter, with an identical secondary group for backup in case the two primary tanks died.
Our second Alliance setup used balanced groups similar to instance parties, with a tank, a Cleric, a Chanter, and some dps classes. They focused on holding aggro on any adds that spawned from the eggs if our dps was too low.
The third Alliance consisted purely of dps classes. Their goal was to maintain dps wherever we needed them. They also grabbed aggro on the exploding orbs that spawned during the raid and lured them away from the raid members to minimize deaths.
What lessons did you learn from this battle?
Taper: The most important thing we learned is that even with a boss encounter of this size, it's still best done with one Legion rather than several Legions together. It's much easier to coordinate and organize this kind of battle with one Legion. I was also impressed with my Legion mates' performance throughout the entire raid. We had to make some adjustments on the fly that contributed to the success of the raid. Not enough can be said about the hard work and effort by Amphictyonis to plan and set up this raid, but I am very pleased with the execution of the game plan by everyone.
Finally, what's next for SunShine? Are you going to attempt to take down Sematariux?
Komori: Yes, Sematariux is next on the list for SunShine. We're currently farming the Sematariux keys to go for our first attempt soon.
Raid Video:
Artwork of Note
Beauty may be in the eye of the beholder, but whether it's a painting or a screenshot retouched in Photoshop, members of our Aion community use their extensive talents to make beautiful things. This month, we're bringing you a selection of art from our EU forums and Facebook page.
Nell from Suthran, offers us a female Aion version of Zorro:
Bellatrix from Balder, a true spiritmaster beauty:
The cheeky Makaa from Kromede:
And finally 2 stunning drawings sent by Azeneth from Perento:
Knowledge is Power
Remember to follow the Community Team on Twitter and Facebook to stay on top of the Aion news!
Aion Facebook Page —Become a fan today!
Aion Steam Gaming Group —Join our Steam community!
Phenteo (NA Community Manager)
Nyx (NA Community Coordinator)
Faelan (EN Community Coordinator)
Arathaur (FR Community Manager)
Imhotep (DE Community Manager)
The Eye on Community article series is a way for us to highlight current, interesting, wacky, passionate, intriguing, dramatic, or just plain awesome things going on in the community. Please send your submissions to community_aion_en@ncsoft.com.
— The Aion Community Team