Prepare for war! Requisition your supplies now!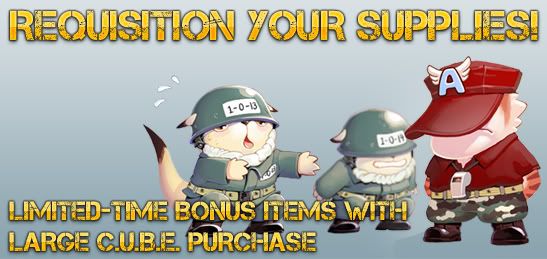 There are just a few days left for Daevas to pre-purchase items from the new Black Cloud Marketplace! These items will be delivered via express mail on April 11th when Aion: Ascension launches!
If you purchase a large C.U.B.E. from the store, you will additionally receive bonus items! This will be an ongoing feature of the large C.U.B.E. The bonus items currently are:
Alluring Box — open this box to get a surprise gift! A relic? A medal? Some edible goodies? Who knows what tempting treats you might find in this box?
Chocolate Enchantment Stone Box — this box will delight you will 2 enchantment stones levels 80 to 89!
OK Manastone Box - A whole stack of lovely manastones awaits you inside this box, enough that even the unluckiest socketer can get their just reward. This box gives one set of the following: Attack (x70), +5 Attack (x10), +17 Crit (x40), +27 M.Boost (x50),+14 M.Resist(x40)
These 3 bonus items will be part of our regular bonuses for purchasing the large cube this month. The bonus items will change periodically — we will let you know when they update to awesome new stuff!!
Click here to read more details - including about the extra special bonus of the Tahabata weapon - available only until 3.0 launches!