Leave your legacy in Aion!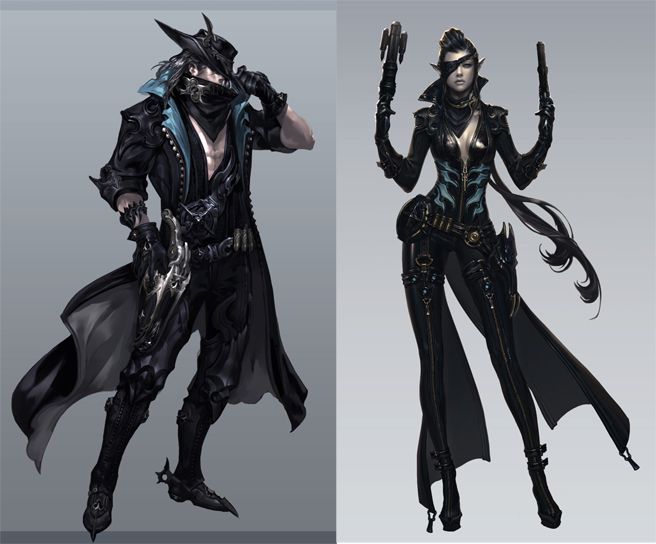 Recently, NCSOFT Korea started a contest asking their players to help "make Aion" by submitting their ideas for the new Gunner (name not final) class' weapons, debuting in the 4.0 expansion. We are proud to announce that Western players, among other territories, are also encouraged to be a part of this process! Starting Monday, October 22nd, all Aion: Ascension fans and players will be able to submit their own unique ideas for the Gunner class weapons!

This is your first (but not last!) chance to leave your legacy in Aion. Simply submit your original concept art for the Gunner class weapons to the dev team and your design could be chosen and developed for Aion 4.0! Remember, this is a design submission, not necessarily an art submission. We are looking for high-quality, innovative, unique ideas, regardless of your artistic ability.

Please be aware this is not a contest. No physical or digital prizes will be awarded, meaning there are no territory restrictions to enter. Everyone who plays on our servers is encouraged to participate! If your submission is chosen, you will get official recognition that your artwork has been incorporated into the game! You will also be given the chance to have direct feedback in the naming process of the weapon you designed when it comes time to localize the update for the North American market.

How do I participate?


Draw an awesome piece of concept art that represents your best idea for a Gunner class weapon.

Your artwork may be hand-drawn, or computer generated, but it must be your own original work.
You must present both a front and side view.
Notes explaining moving parts and effects are OK.

Submit your artwork to LeaveYourLegacy@ncsoft.com. In the email, you must include the following information:

Real Name
Account, server, and character name
Age
Explanation of your concept and the intent behind your design
The following statement:

By submitting the artwork, I:
a) represent and warrant that my entry is my own original work and that it does not violate any rights of any third party (including, without limitation, any patent, copyright, trademark or other intellectual property right, or any privacy, publicity or publishing rights of any third party), and that it is not libelous, obscene or otherwise contrary to law;
(b) agree, in the event that my entry is selected to be used by Sponsor, to (i) assign to Sponsor all of my rights, title and interest in my entry, including, without limitation, copyright, in or to my entry; or, (ii) if I cannot transfer any of my rights, grant a perpetual, exclusive, worldwide, irrevocable, fully paid-up, royalty-free, transferable license to Sponsor to reproduce, distribute, publicly perform and display, create derivative works of and otherwise commercially exploit my entry; or (iii) if I cannot transfer or license any of my rights, waive enforcement of such rights. I further agree to take all reasonable actions, at Sponsor's expense, that are required for Sponsor to protect and enforce Sponsor's rights in my entry
Incomplete entries will not be considered. The deadline for submissions is
11:59pm Thursday, November 15, 2012
in order to be considered.
The Aion team will then choose a number of submissions to send off to the Dev Team. These designs will be featured on our website and Facebook page on November 19, 2012. If one of these submissions is chosen to be used in 4.0, we will showcase the concept art alongside an official weapon screenshot on our website and social networks as soon as they are released to us.
Please note — although this is a contest in Korea, players on the NA servers are not eligible to participate in the Korean contest or win their prizes. Their contest only applies to players on the Korean servers. In addition, North America sending submissions does not guarantee that any will be selected for use.
Best of luck, Daevas! We're looking forward to your submissions. As we receive them, we will add them to the
"Leave your legacy in Aion" photo album
on our Facebook page!
About the Gunner: The Gunner is the first of Three new classes being added to Aion in version 4.0. The Gunner's name derives from her weaponry of choice. This class can dual-wield pistols or devastate opponents with huge two-handed cannons! We've included official concept art below to give your ideas a head start.