Join us for the Aion & L2 Player Summit at PAX! (No PAX ticket required!)
Greetings Daevas!

As PAX Prime draws ever closer we want to remind you about the Aion and Lineage 2 PAX Player Summit on August 31st! All ages are welcome and you do not have to have tickets to PAX in order to attend. Simply print out or bring a digital copy of our invitation to show at the door to get in. Come take part in a fun filled night of karaoke, food, drinks, prizes and mingling with your fellow gamers! We might even convince Valor to do his rendition of "Rebel Yell" :p

Venue and time of the event can be found here.

When players arrive they will be given a feedback form they can fill out and turn it in to one of the staff members to obtain 300 NCoin! Additionally there will be an option to leave video feedback that will go directly to the "decision makers" of the office. If players opt to do the video feedback they will be rewarded with an additional 300 NCoin! The video feedback will be limited so it would be advisable to have an idea of what you would like to say!

This is your chance to share what positive changes you think could be made to the store, to the game, to the website — you can be the voice of the many that is shared with the top executives here. Please remember we are looking for honest, but constructive feedback!

Additionally, there will be a raffle at 9PM! Everyone who attends will be able to participate in the raffle.

Here are the prizes that are up for grabs:

Three winners will receive the Logitech Bundle

Logitech G600 Gaming Mouse
Logitech G19 Keyboard
Logitech Wireless Gaming Headset

Two winners will receive

Sennheiser Communications PC 350 Headset

Two winners will receive

Bigfoot Killer 2100 Gaming Network Card

Two winners will receive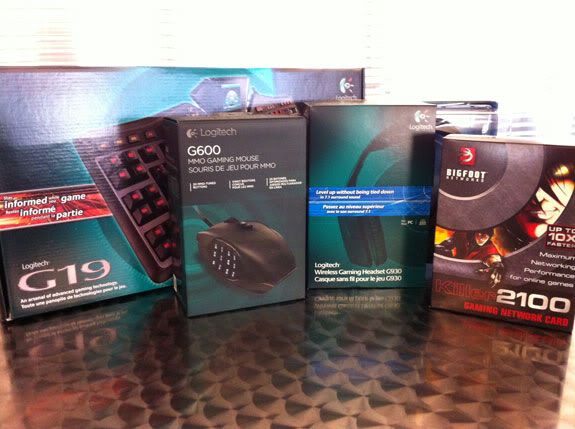 If you live in the Seattle or the surrounding area, it is your duty as an Aion player to seize this opportunity to give feedback that you, your friends, and your legion-mates want us to hear! This is an unprecedented opportunity to speak your mind and it will be heard and considered by the top decision makers in our office. And, you get to party on top of that!
How can you pass that up?